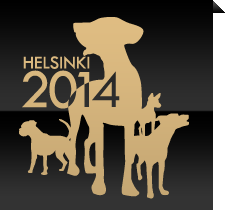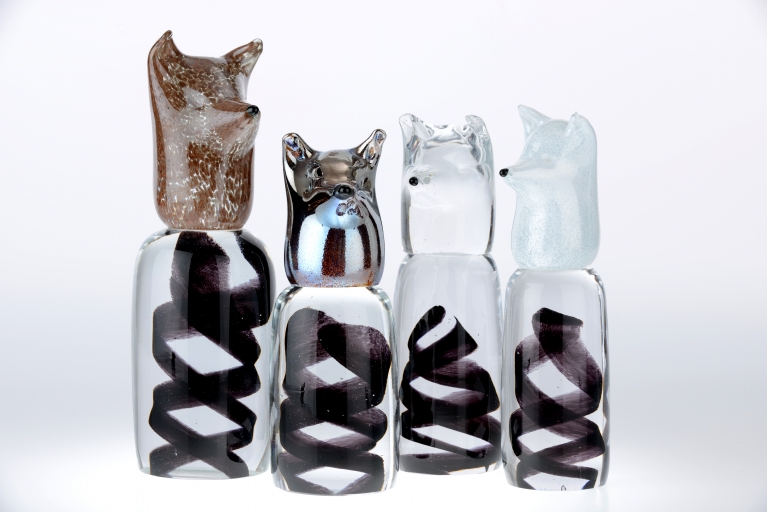 Unique event – unique trophies
Glass artist Tarmo Maaronen has designed a unique series of trophies for the Finnish Kennel Club and its FCI World Dog Show 2014. The Inspiration for the artist has been the Finnish Spitz, the national breed of Finland.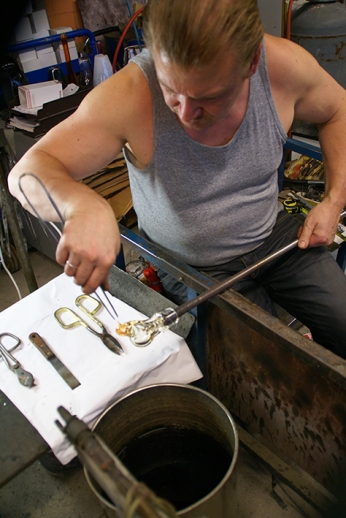 The Finnish Kennel Club´s 125th anniversary and FCI World Dog Show insisted on doing something special with these precious show trophies. In the spring 2012 we spent our recreational day at the amusement park Linnanmäki and saw some lovely glass clowns made by Tarmo Maaronen - the idea was born. The Finnish Kennel Club contacted Maaronen and asked him to design a series of trophies using our national breed the Finnish Spitz as the inspiration. It has been a long road of testing and fixing but above all also of joy and success. After two years of work we are proud to present this fantastic and totally unique set of trophies, specifically made for our exquisite event and for you.    
The set includes trophies for all the World Winner titles, Best in Group trophies and Best in Show vases. All the trophies are hand-made and no molds are used at any stage so each statue is truly unique. We have a limited amount of trophies and each has its own serial number and signature. We are proud to give these future collectibles to their new owners in August. 
The artist Tarmo Maaronen, Bianco Blu
Tarmo Maaronen was born in 1963 in Nuutajärvi glass village so it´s no surprise he ended up in the glass business. At the age of 16 in 1979 he worked as a delivery boy in the pressed glass shop. And from there it started. By the age of 18 he was already the senior blower – while the "junior" blower was 44 years old.
Tarmo Maaronen has over 30 years of experience in glass art and he has worked together with the Finnish top-class artists such as Kaj Franck and Oiva Toikka. He has worked as an instructor both in Finland and Italy. In 1997 he established his own Bianco Blu Glass Studio that is situated in the Fiskars Village, about 90 kilometers from Helsinki. Bianco Blu does mainly its own collection but occasionally some glasswork for others – like now for our FCI World Winner 2014.