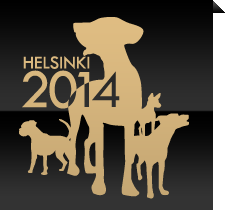 News archive
10/08/2014
The Best In Show dog of the World Dog Show 2014 has been selected. The winner of the World Dog Show was Affenpinscher Tricky Ricky From Yarrow-Hi Tech, owned by Jongkie Budiman and Mieke Cooijmans from Indonesia. Maltese CineCitta Sacha Baron Colen, owned by Franco Prosperi from Italy was second, Wire-haired Fox Terrier Kingarthur Van Foliny Home, owned by Rony De Munter, Viktor Malzoni Jr and...Read more
10/08/2014
The World Dog Show organized by the Finnish Kennel Club ends on Sunday with the selection of the world's best dog, that is the Best In Show. The culmination is expected with great enthusiasm and the majority of the tickets have already been sold. Some tickets to the grand finale taking place at 5 pm on Sunday are still available at the entrances of the Messukeskus, Expo and Convention Centre...Read more
09/08/2014
On the second day of the World Dog Show dogs from four different breed groups were competing in the rings at the Messukeskus Helsinki Expo and Convention Centre. At the end of Saturday the judges selected the best dog from each group to continue to the Best In Show competition on Sunday. On Saturday a total of 8 151 dogs were judged. Almost 1 200 of these represented the Finnish breeds. The five...Read more
09/08/2014
On the second day of the World Dog Show Terriers, Spitzes, Scenthounds and Sighthounds have been seen in the Expo and Convetion Centre in Helsinki. In total 8 151 dogs have been judged on Saturday. Finnish Lapphund was the most numerous breed with 526 entries. The enormous amount of dogs of the Finnish breeds at the World Dog Show has gotten the interest and respect of international media. In...Read more
08/08/2014
On the first day of the World Dog Show there were three breed groups competing in the rings. At the end of Friday the best dog from each group was selected to continue to the Best in Show competition on Sunday. Also the World Championship medals in obedience were handed out. The gold medal was won by Sandra Rohrer from Germany. The official opening ceremony of the show was held in the beginning...Read more
08/08/2014
The top event of the dog show year, the World Dog Show, has started in Messukeskus, Expo and Convention centre Helsinki, on Friday. On the first of three show days 6 557 dogs will be judged. The results of the show are updated in real time to the World Dog Show website. Starting at 2 pm you have the opportunity to view the event live through the Internet and it is especially recommended to watch...Read more
07/08/2014
The team representing Finland won the gold medal in the Obedience World Championships on Thursday in Messukeskus Helsinki. Germany came second place and the third team was Italy. The individual competition will take place tomorrow in Vantaa Energia Arena. The finals will be streamed live and the broadcast can be watched here starting at 9am. In the Freestyle competition on Thursday team Russia...Read more
07/08/2014
Some of the show number letters have wrong starting times for judging. There are errors especially on Sunday's show number letters. Please check the right starting time for judging from schedule or event's web site. We apologize the error. Check out the schedules here
07/08/2014
Unfortunately Rainer Vuorinen is unable to come to the FCI World World Show on Friday. His breed will be judged by Hans Lehtinen, Finland. Updated 7 August, 4.45pm. Hans Lehtinen added as judge.
07/08/2014
Come to WDS2014 photo point in hall 6 and take a photo of your dog and its trophies. We provide you two points with the shows visibility. Photos taken at the photo point will be published on the WDS2014 web site. Read more about the photo point Photo gallery
06/08/2014
Unclear issues pertaining to the World Dog Show will be solved at the eastern entrance on Thursday 7 August between 2 pm and 7 pm. From this help desk you can eg. get your show number. Check out the location of the eastern entrance here
06/08/2014
The World championships in obedience and freestyle & HTM are held in connection with the World Dog Show. The championships in freestyle & HTM take place on 6–7 August and in obedience on 6–8 August. The final competition in obedience is arranged in the Energia Areena in Vantaa, but the rest of the competitions are held in Messukeskus, the Expo and Convention Centre in...Read more
05/08/2014
This upcoming weekend, the Finnish Kennel Club will host the most-anticipated event of the international dog show calendar, the FCI World Dog Show 2014. If you are unable to get to the event in person, you should use the Internet to keep track of what's happening. A live broadcast of the event will be produced for the Internet and our real-time online results service makes it easy to follow...Read more
05/08/2014
Tweets and Instagram photos from the FCI World Dog Show are collected to the WDS2014 social media page. Use the hashtag #WDS2014fi in your tweets and photos and we will publish them at the WDS2014 web site. Take a look at the social media page. Follow WDS2014 event on Facebook and Twitter and get the latest news and updates quickly and easily.
04/08/2014
Unfortunately Barbara Müller is unable to come to the FCI World World Show. Her breeds will be judged on Friday by Rainer Vuorinen, Finland, on Saturday by Paolo Dondina, Italy and on Sunday by Marja Talvitie, Finland.
Pages