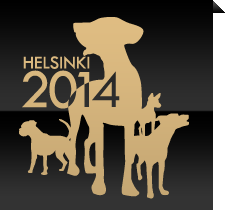 Affenpinscher is the winner of the World Dog Show 2014
10.08.2014
The Best In Show dog of the World Dog Show 2014 has been selected. The winner of the World Dog Show was Affenpinscher Tricky Ricky From Yarrow-Hi Tech, owned by Jongkie Budiman and Mieke Cooijmans from Indonesia. Maltese CineCitta Sacha Baron Colen, owned by Franco Prosperi from Italy was second, Wire-haired Fox Terrier Kingarthur Van Foliny Home, owned by Rony De Munter, Viktor Malzoni Jr and Dieny Uiterwijk Winkel from Belgium was third and American Cockerspaniel Pbj's Back In Black, owned by Michael Kristensen, Beauté Pruitt and Jamie Pruitt from Denmark was fourth.
The World Championship in Junior Handling was won by Monica Bonifacio from Italy, Supasin Khajornpraphasun from Thailand was second and Jonna Lehto from Finland was third.
The Group winners on Sunday were:
FCI Group 1 - Sheep and Cattle Dogs
Australian shepherd, Allmark Fifth Avenue, owned by Neil Allan, Angie Allan and Robert Harlow from the United Kingdom.
FCI Group 7 - Pointing Dogs
English Setter Blue Baltic's Ultra SonicBullet, owned by Anu Pietikäinen from Finland.
FCI Group 9 - Companion and Toy Dogs
Maltese, Cinecitta' Sasha Baron Colen, owned by Franco Prosperi from Italy.
In the Best Veteran competition on Sunday the best dog over 8 years old was selected.The Best Veteran title was won by Puli, other colours, Cordmaker Hurdy Gurdy, owned by Bodil Rüsz, Sue Huebner and Michael Laub from Denmark.
The Best Breeders' Group was won by Shellrick's Shetland Sheepdogs, breeder Anne Reider from Sweden.
In the Best Brace competition, where a dog and a bitch from the same owner are awarded, the winners were Chic Choix Alexander The Great and Chic Choix Cleopatra Eurydice, owned by Sanna Kopola-Hirsimäki from Finland.
The World Dog Show 2014 has been an enormous success. The number of visitors rose up to  53 000. The president of the World Dog Show committee, Kari Järvinen, thanks warmly all participants. "The show was terrific and went as expected. We Finns are very content that the whole world came to Helsinki to compete in an important and prestigious show".
The World Dog Show continues its' world tour and next year this atmosphere can be enjoyed at the World Dog Show 2015 in Milan, Italy 10 - 14 June 2015.
The Finnish Kennel Club arranges another big dog event Koira2014 at Messukeskus, Expo and Convention Centre, Helsinki 6 - 7 December. Helsinki Winner is held on Saturday 6 December and Voittaja Winner is held on Sunday 7 December.