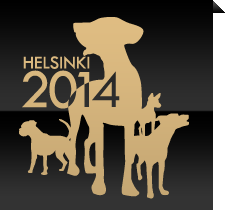 Finnish Hound to the Best In Show competition on Sunday
09.08.2014
On the second day of the World Dog Show dogs from four different breed groups were competing in the rings at the Messukeskus Helsinki Expo and Convention Centre. At the end of Saturday the judges selected the best dog from each group to continue to the Best In Show competition on Sunday.
On Saturday a total of 8 151 dogs were judged. Almost 1 200 of these represented the Finnish breeds. The five Finnish breeds Finnish Spitz, Finnish Hound, Karelian Bear Dog, Finnish Lapphund and Lapponian Herder were widely represented also in the programmes of the day.
The Group winners on Saturday were:
FCI Group 3 - Terriers
Fox Terrier, wire haired Kinarthur Van Foliny Home, owned by Rony De Munter, Viktor Malzoni Jr and Winkel Dieny Uiterwijk from Belgium
FCI Group 5 - Siptz and Primitive types
Shiba, Dragon House Mr Jones, owned by Marjo Puranen from Finland and Sandi Smith from the USA.
FCI Group 6 - Scent Hounds and related breeds
Finnish Hound, Räntäahon Rane, owned by Tomi Koivisto and Eveliina Jaako from Finland.
FCI Group 10 - Sighthounds
Saluki, Qirmizi Magnolia, owned by Nicklas and Ingunn Eriksson from Sweden. 
In the Best Veteran competition on Saturday the best dog over 8 years old was selected.The Best Veteran title was won by the Afghan Hound Be A Dream A Touch Of Freedom, owned by Michaela Mühlemeyer from Germany.
The Best Breeders group was won by Badavie Salukis, breeder Maria Nordin from Sweden.
The Best Brace of the day consisted of the Borzois  Solovyev Troekurov Barin and Solovyev Nostalgia, owned by Marina Ostrovskaya from Russia.
On Sunday a total of 6 532 dogs from the breed groups 1, 7 and 9 will be judged. These groups consist of eg. Sheep and Cattle Dogs, Pointing Dogs and Toy And Companion Dogs.
The Best In Show competition, where the title for the best dog in the entire show will be awarded, is also held on Sunday. Tickets to the spectacular final of the World Dog Show are still available for the price of 10 euros. Tickets can be bought at the ticket desks at the Expo and Convention Centre.
See the World Dog Show webpage www.worlddogshow2014.fi for more information about the event.