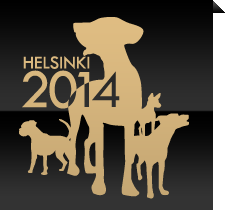 Finnish Lapphunds ruled the World Dog Show on Saturday
09.08.2014
On the second day of the World Dog Show Terriers, Spitzes, Scenthounds and Sighthounds have been seen in the Expo and Convetion Centre in Helsinki. In total 8 151 dogs have been judged on Saturday. Finnish Lapphund was the most numerous breed with 526 entries.
The enormous amount of dogs of the Finnish breeds at the World Dog Show has gotten the interest and respect of international media. In addition to Finnish Lapphunds there have been a large amount of other Finnish breeds: 234 Lapponian Herders, 165 Finnish Spitzes, 161 Finnish Hounds and 103 Karelian Bear Dogs.
In addition to the dog show Saturday has offered a variety of interesting displays of different dog activities. Also on Sunday you can see agility, rally obedience, dog frisbee and flyball displays. Finnish Breeds, working and service dogs and dogs for special needs are also present on Sunday.
The weather during the World Dog Show weekend has been sunny and very warm. The Finnish Kennel Club wants to remind that dogs must not be left inside hot cars. The security officers circulate in the parking lots of the Expo and Convention Centre in Helsinki and report any dogs left in cars. If the owner of the car cannot be reached the car windows will be broken in cooperation with the authorities.